A gemstone guitar pick may seem like a luxury, but tonally stone guitar picks are just as different as nylon and metal picks. Typically semi-precious stones are not exorbitantly priced, compared to more valuable jewels; but they will cost around thirty to fifty times as much as the standard nylon or plastic guitar picks. So is the price worth it?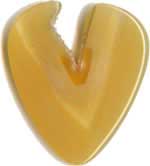 Figure 1 – Agate Stone Plectrum
To many guitarists, the answer is a resounding yes! Not only are they longer-lasting, easy gripping, and better sounding; they are also very appealing items to own.