Synyster Gates is getting a lot of attention just now – with numerous hit records, his own signature guitars and amplifier from Schecter, and an increasing reputation as a modern-day guitar hero. We present a profile of the man, explain why he is viewed as one of the best guitarists on today's rock scene; and give some ideas on how to get the Synyster Gates sound.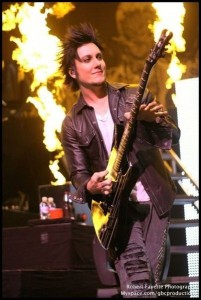 Californian metal band Avenged Sevenfold are clearly one of the most popular hard rock bands today, and with six studio albums (including two reaching number one) they are certainly hard to ignore. Brian Haner Jr, or Synyster Gates as he is better known, has been there since the beginning; Syn's the man responsible for those insane guitar solos you'll hear on tracks like Afterlife and Beast and the Harlot.
Gates' father was Brian Haner – a well-known guitarist/comedian with a nickname of his own, "Guitar Guy". Haner Sr. began playing guitar at the age of 5, and joined a band by the age of 10; it was in the family. So it was no surprise that Brian Jr starting playing young too. He was raised on a soundtrack of speedy jazz players like Django Reinhardt and Joe Pass; it really is little wonder he became the guitarist he did. You can see hints of these styles throughout his playing.
Solos with Sevenfold
Syn's guitar playing can be one minute lightening fast, the next slow and sleazy. The first time I head one of these masterpieces was off of A7X's second album Waking the Fallen. The track was Chapter Four, a song referring to the biblical story of Cain and Abel. Okay, maybe masterpiece is a bit far-fetched, but it was that same sound that they've carried throughout their careers that drew me in.
When talking about his role in Sevenfold, it's hard to go without mentioning his counter-part, Zacky Vengeance (Zachary Baker). These guys are both great guitarists in their own rights, but together they form something special. One of Avenged Sevenfold's signature sound aspects is the dynamic interaction of the guitar parts by Syn and Zacky. As Syn told Guitar Player magazine "I tend to play harmonies a third below or above the main melody"; very distinctive.
City of Evil
Sevenfold's third album, City of Evil, was the first to really open my eyes to the talent these guys had. Songs like Blinded in Chains, Sidewinder, and Beast and the Harlot left me wanting to find a partner to just jam out some solos with. By the time their fourth album was released, I was already a huge fan, and pleasantly surprised when I heard the song Afterlife which features one of my favorite guitar solos of all time.

For the track Afterlife, Syn's guitar is in drop D tuning.
Hail to the King
They've continued this tradition with their two most recent albums, Nightmare and Hail to the King. Although, with HttK, they went for more of a tribute to their biggest influences, bands like Metallica and so on. It's a phenomenal album, but they have adopted a different sound for this particular record. For example, the solo of the title track Hail to the King starts with lots of typical sweep picked arpeggios, changing key, but then turning into something else. Almost like something that could have been played by Queen or Focus 40 years ago (see below – starts at 3:00m).
Gates' Gear
Synyster Gates guitars
Most fans of Synyster Gates and Avenged Sevenfold are well aware of Gates' affiliation with the Californian guitar brand Schecter. In-fact, there's actually quite a few variations of the signature Schecter Synyster Gates Custom. Gates primarily uses his own custom model on stage; having several different guitars tuned in different ways. Usually black or white with gold pinstripes. These are really nice guitars; a mahogany body and neck, ebony fingerboard, and with a Seymour Duncan Invader at the bridge position, and a Sustainiac pickup at the neck. The Invader pickup is described on Schecter's website as having the "heaviest tones a passive pickup can produce", and being "electrifying force of energy". The Sustainiac has associated harmonic circuitry and can act as a sustain driver, Schecter described it on their website as; "The 'Secret Weapon' for controlled feedback and infinite sustain".
There's a few variations of his custom model, including ones with the Rebel Flag, American Flag, and a few others – even one designed after Jack Nicholson's portrayal of The Joker in Batman.
Gate's has previously used other Schecter models such as the Hellraiser and Blackjack. Also the Ibanez S Prestige, a Fender Squier Strat, Gibson Les Paul, and during the production of Waking the Fallen and City of Evil guitars by another Californian maker ESP.
Synyster Gates amplifiers
For amplifiers, Synyster Gates has used amps from Mesa Boogie, Marshall, and of course Schecter. But currently he is using his signature Schecter Hellwin
amp, developed by James Brown at Schecter – just 100w. Live, he puts it and a 4×12 cab in an isolation box, mic'd up and amplified further from there. It is a nice amp, with three channels, (two high gain, one clean – which itself has a UK or USA voicing). Unfortunately, to grab some gear identical to what he uses, you'll need to fork out at least a couple grand. Unless, of course, you find a good deal on some decent used equipment. Personally if you were to choose any of Gates' personal gear, go for the Marshall Jvm205h with a Marshall 1960 4X12 cabinet.
And check out this cool clip where Synyster talks about the development of this amp. He gives a demonstration of the various settings, showing some of those old jazz influences he was brought up on.
As for effects pedals, Gates has used a variety of different brands and models over the past 13 years with Avenged. He has quite a few Boss pedals, including an
Sd-1 Super Overdrive
,
Rv-5 Digital Reverb
,
Ph-3 Phase Shifter
, and
Bf-3 Flanger
and several
Wah Wahs
. Of course a set of individual pedals is going to give you the best and most accurate sound, but something like the Boss GT-8 or
Gt-10
Multi Effects pedal can help you match the sound without breaking the bank.
How to get the Synyster Gates sound
The old cliché is that tone comes from the fingers, and not the gear (i'm not totally convinced). So what do his fingers do to get those sounds? What techniques does he use? Obviously he can be fast, shredding like the Enron accountants before an audit. Strings are typically light top with a heavy bottom, 10-52s, played with a thick pick. Like a lot of metalcore guitarists he uses a whole lot of sweep picking. A lot. But when it's solo-time out come the harmonic dive bombs with the tremolo, and a good deal of string bending too. Syn generally down-tunes his guitars; often to drop D (D-A-D-G-B-E), and even drop G and C#. This makes bends and dive bombs easier (due to lower string tension) but also gives a characteristically darker, droning sound. But what about the choice of notes? It's no surprise that with the drop D tuning a lot of tracks are in D minor, and he plays a lot of patterns based on the D minor arpeggios, but as Syn explained to Guitar Player "I like the melodies themselves to be kind of shocking. I love ridiculous notes; a lot of flat fives and flat nines, as long as they resolve nicely". These are all techniques you'll have to master if you want to approach the Synyster Gates sound.
Guest Gates; Other Projects
Being such a prominent name in the rock music industry has allowed Synyster Gates to work with some other artists in the scene. Of course he's done some work with his father, which includes a guest appearance on Haner Sr.'s music video "Blow-Up Doll". He's also worked alongside fellow band mate M. Shadows (Lead Vocalist for Avenged) with the band Good Charlotte on their song The River.
In 2001, Gates formed a side project with former band mate Jimmy "The Rev" Sullivan, who unfortunately passed away prior to the release of Nightmare. The side project was named Pinkly Smooth, and only one album was released: Unfortunate Snort. This band does not sound much like Avenged Sevenfold, and actually has a bit of a circus type element at times.
Also performing in this band was Justin Sane (Justin Meacham), who had a short-lived stint with Avenged Sevenfold as their bassist before they made the switch to their current bassist. Pinkly Smooth is almost guaranteed to never produce any new music since The Rev passed away, but Gates has mentioned the idea of re-mastering the album.
Without a doubt I can assure you that Synyster Gates will go down in history as one of the greatest guitar players of all time. From his intricate solos to his catchy riffs, this guy is definitely not a bad influence to have on your guitar playing. Perhaps with several years of experience playing guitar and writing solos, you may be able to start the next Avenged Sevenfold.