A gemstone guitar pick may seem like a luxury, but tonally stone guitar picks are just as different as nylon and metal picks. Typically semi-precious stones are not exorbitantly priced, compared to more valuable jewels; but they will cost around thirty to fifty times as much as the standard nylon or plastic guitar picks. So is the price worth it?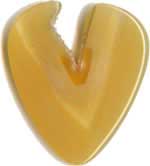 Figure 1 – Agate Stone Plectrum
To many guitarists, the answer is a resounding yes! Not only are they longer-lasting, easy gripping, and better sounding; they are also very appealing items to own.
Why use a stone pick?
Those who have used stone picks often prefer the crisp tone – more defined even than even metal picks. Common materials used are Agate, Jasper, Jade and Turquoise; all highly polished. There are also some very attractive man-made stone picks. With such a wide variety of styles and potential tones, it is well worth trying a few different stone types.
Figure 2 – Blue Dragon Skin pick
While the picks are indeed much more durable- they won't harm guitar strings. Thanks to finely smoothed edges, stone picks should be just as safe as plastic picks to use. Given you bought them from a store, and haven't decided to use your rock collection as picks! Needless to say, you won't get any use out of a diamond ring either!
Essentially, stone picks give a unique tone because of a few characteristics such as density, flexibility, and durability. Imagine striking a large bell with a plastic hammer – it will be much different than striking the same bell with a rock. Interestingly, plastic will absorb some vibrational energy when struck against a string. Stone will not, at least to the same extent – resulting in stronger, more distinct vibrations. From this example, many different speciality stores have started to sell such picks as a new way to control precise tones.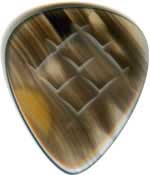 Figure 3 – Black Brazilian Stone Pick
What's wrong with stone guitar picks?
Gemstone picks will last a very long time, and offer good grip control- even more so than Tortex picks. The biggest problem with a gemstone pick is losing it. If you are like most guitar enthusiasts, losing picks around the room or house- even in pockets- can be a common nuisance. With single picks costing upwards of around $30 each, there is obviously a need to reform old habits. In fact, some companies will try and tell you that a stone guitar pick is the last one you will ever need to buy. While this is indeed possible, it is much more likely it will be lost long before it breaks.
Stone is hard. If you playing style is quite 'thrashy', you might find scratch damage to your instrument, either on the paintwork or pickguard. Watch how you play a friends brand new axe, or your fathers vintage Gibson!
Where to buy stone picks?
If you are indeed looking to acquire a stone pick, you will most likely have to go online, or visit a rather large music retail shop. They are much harder to find than the dozens of boxes of plastic, nylon, and metal picks littering musician shops. While $30 may seem a little high, the "cool" factor gained through bragging to friends and fellow musicians is sometimes well worth the money, and extra tonal clarity can be priceless. Different shapes, feels, translucencies, and sizes can all be crafted from many types of stones – as well as customizations and extra gripping features. If you are looking for extra tonal clarity, this could be a good upgrade to your collection.
---